Dutch bank ING continues its innovation studio initiative where it selects and supports Fintech startups. For the class of 2016 it has selected four new startups: Surance, Startup Insight, Gekko and Axyon. The startups have been selected from more than 100 applicants. They will receive up to € 50k financing, housing, lean startup coaching and help connecting to the rest of ING.
Is this program helping startups?
Corporate startup collaboration sounds like a buzzword but is actually a controversial idea. Some experts believe that corporates need to change and startups can help. Many collaborations however fail precisely because corporates and startups are different. For a balanced perspective including pitfalls, see this KPMG new horizons report, especially page 40. The precious time of startups is sometimes wasted while the corporates fail to make a decision. ING is navigating these tricky waters by running their innovation studio as an accelerator. It invests its time in a small group of startups selected on strategic fit with the Fintech innovation goals. Selected startups receive both support and freedom to keep growing. They are working in the same building as bank employees, without loosing their independence. If the rest of the bank fails to see the opportunity of each startup, the startup can move on. We interviewed several of these graduates in the last year (Moneytis, Tabster). They all agree that this particular program is valuable for the selected startups.
Program structure and selection
The ING studio is using the same formula as last year, with some minor tweaks. After an open call at F6s, about 100 startups applied for the program. The 10 best startups came to Amsterdam for a pitch event and meet and greet in Amsterdam. Four startups were invited to join the program.
Surance: modern saving
Surance (not to be confused with previous interviewee Surence) provides people with a better, more modern way to save for retirement. Surance CEO Alexander Brouwer ,who built models for pension funds in a former life, wanted to create a product fit for employees who do not work 20 years or more for the same company. "Surance provides a solution that is more geared to the individual and to the notion that your life never goes in a straight line. Looking at ING's network, the bank is a perfect partner to build on and to perfect our prototype."
Startup Insight: using blockchain
Startup Insight was founded by Atte Anema, Carlos Torres and Joris van der Steuijt, three former coaches at Startupbootcamp. Based on their coaching experience, they want to create a platform that helps entrepreneurs with financial and legal matters. One of the challenges they want to address is reliable, accurate reporting between startups and investors. To address this challenge, they have decided to use blockchain technology for this purpose. Blockchain, the technology behind bitcoin, allows startups to make reliable records of their business data.
Gekko: admin solution for SME
Gekko is one of the more mature startups selected in the studio. Gekko started three years ago with the development of a simple administration solution for small businesses. It allows all small entrepreneurs to do invoicing, expenses and tax returns online. The basic version of the tool is available free of cost and widely used. Gekko is looking for new, innovative ways to add more value and make money, including collaboration with banks. "A bank cannot service small companies in an effective way" was one of the bold statements Joris Docter made in his pitch and he believes the data from Gekko can solve this problem.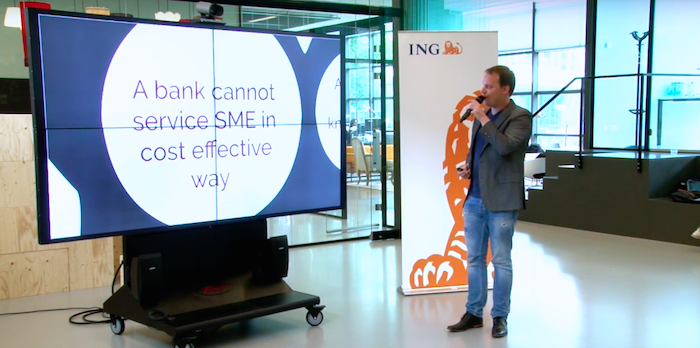 Axyon AI: machine learning
Axion AI  uses machine learning technology to improve business decisions. The company is based in Italy but will come to The Netherlands thanks to the ING studio. Their algorithms are able to learn from past data to make future decision slightly better. The value of such an algorithm really depends on where you implement it: When used in the right context, for instance in a very large bank like ING, it can save millions. Axyon AI's COO Giacomo Baragrazi is therefore looking forward to join the studio: "We think ING is the perfect partner to work with us on a first business case of our product, as we feel people are really committed to innovation and implementation."
Next steps
All these startups will work from the ING studio at Amsterdam Bijlmer Arena from September 2016 to February 2017. Like in other accelerators, they will be working with Lean startup to run experiment, validate assumptions and finally pitch at a demo day. Hopefully they will get some further support and perhaps new business from ING in the mean time. With StartupJuncture we will follow these startups regularly (Sieuwert van Otterloo is a mentor of the innovation studio program) and report the results.