In a desolate corner of the Amsterdam Science Park, next to a picture-perfect plain white Equinix datacenter, lies nothing but wasteland. It's hard to imagine a vibrant startup community here. But in a few months that's exactly what this place wants to become. Enter project 'Startup Village', an initiative by ACE Venture Lab, UvA Holdings, Amsterdam Science Park and architect Julius Taminiau.
Today (Thursday April 21) the project will officially be announced at the Amsterdam Science Park. StartupJuncture spoke with ACE Venture Lab director Erik Boer prior to the event.
Space
According to Boer, ACE Venture Lab needed more space for startups, but they couldn't find a logical place. When the organization addressed this issue in an interview a year ago, Taminiau saw opportunities and approached ACE. He had the perfect solution: shipping containers.
So: how will it look like? First of all, the village will be built by placing prefab shipping containers, which offers flexible, but cheap office space (100-150 euro per month). There will be room for fifty startups, a central community space with coffee places and catering. Other facilities include more 'green' stuff like 'beehives and birdhouses' or a little kitchen garden.
Containers
Boer told Taminiau chose for shipping containers because it's a fast and cheap method of housing. Plus containers can be piled up easily when there's the need to expand. The cost of the project? Just 400.000 euro.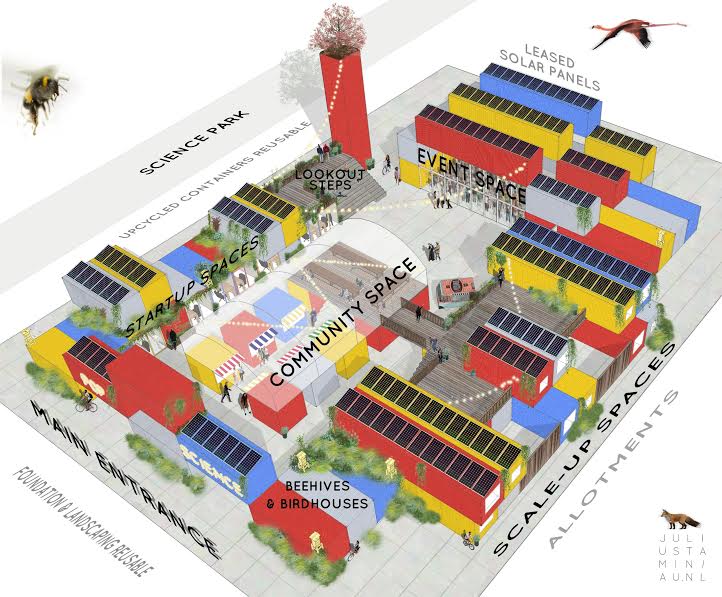 The startup village has two specific goals: first, it eventually must ensure more "interaction between buildings" on the Amsterdam Science Park. "Everyone must get the feeling there's something going on here, so we'll be using it as an event space as well. "
Also the village needs to become a very visible landmark. "The look and feel of the village will provide that. It's not just another 'clean building' on the park."
Corporates welcome
Although the project name is 'Startup Village', Boer stresses all kinds of actors in the startup ecosystem are welcome. "I'd like to invite corporates to hire a container. They could set up a little innovation office here."
The building of the site will start in May/June, the project 'starts' in September, and in November a grand opening for the village is planned. The organization is still looking for a suitable name for the little startup town. You can apply for registration here.
Main image by Cmglee – Own work, CC BY-SA 3.0.